Best Med Spa and Skin Care Clinic
Cheeks Laser Hair Removal
How Does Laser Hair Removal Cheeks Work?
Laser hair removal for cheeks is a cutting-edge cosmetic procedure that utilizes advanced laser technology to permanently eliminate unwanted facial hair. Our specialized lasers emit highly concentrated beams of light, which are absorbed by the melanin in the hair follicles. This absorption generates heat, effectively disabling the follicles' ability to produce hair. The surrounding skin remains untouched and unharmed, ensuring a safe and comfortable experience. Over a series of sessions, you'll notice a significant reduction in hair growth, leaving your cheeks impeccably smooth and hair-free.

Is It Safe for All Skin Types?
Our cheek hair removal laser treatment is suitable for individuals with a wide range of skin tones and types. Our state-of-the-art equipment boasts adjustable settings, allowing us to tailor the treatment to your specific skin characteristics. Our highly trained and experienced professionals ensure that the procedure is not only safe but also customized to maximize effectiveness and minimize any potential discomfort.
How Many Sessions Will I Need?
The number of sessions required can vary from person to person, but most clients achieve optimal results with a series of 6-8 treatments, spaced approximately 4-6 weeks apart. This approach ensures comprehensive coverage and gradual reduction in hair growth. It's important to remember that laser hair removal is a long-term solution, and patience pays off with beautifully smooth cheeks.
How Can I Prepare for My Treatment?
Preparing for your cheek laser hair removal session is straightforward. Prior to your appointment, it's recommended to shave the treatment area, avoiding sun exposure or tanning beds. Please refrain from using any topical products like lotions or makeup on the treatment area as well. During your consultation, our experts will provide you with detailed pre-treatment instructions to ensure you get the best possible results from your session.
Find out more about what to expect before and after the treatment?
Find out more about what to expect before and after the treatment?
Looking for something else?
Let Our Medical Experts Help You.
Frequently Asked Questions
Does cheek laser hair removal hurt?

No, most clients describe the sensation as mild, akin to a slight pinch or a rubber band snap.
How much does laser hair removal cheeks cost?

We offer customized pricing for laser hair removal on the cheeks based on individual factors, and we'd be happy to provide you with a personalized quote during a consultation.
Is there any downtime following the procedure?

No, there is typically no downtime associated with cheek laser hair removal, allowing you to resume your regular activities right away.
Are the results permanent?

While it significantly reduces hair growth, some clients may need occasional touch-up sessions to maintain their desired results.
Can I undergo cheek laser hair removal if I have lighter hair colors?

Our advanced technology can effectively treat lighter hair colors, although it's most effective on darker hair due to the laser's targeting of melanin.
Is cheek laser hair removal suitable for men?

Absolutely, both men and women can benefit from our treatment, achieving a refined and hair-free look for their cheeks.
Explore Laser Hair Removal Treatment Areas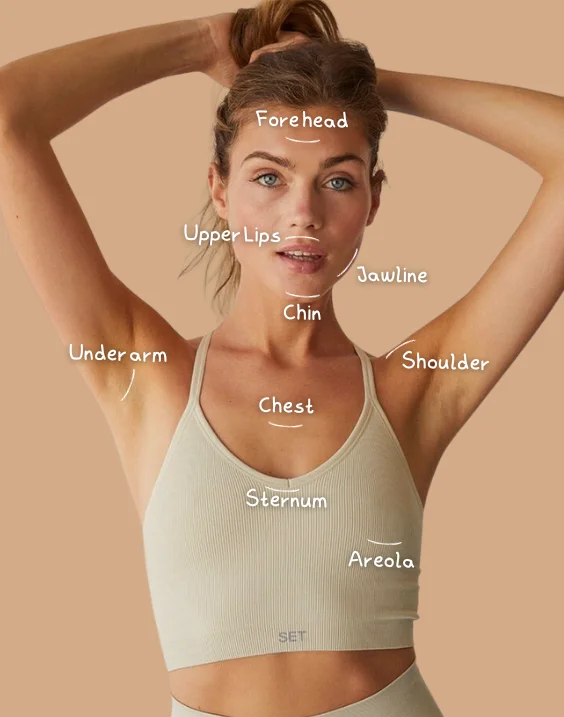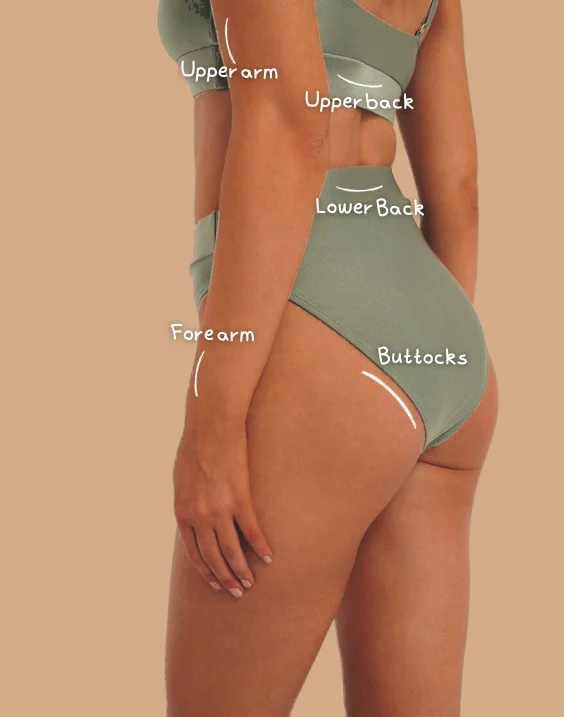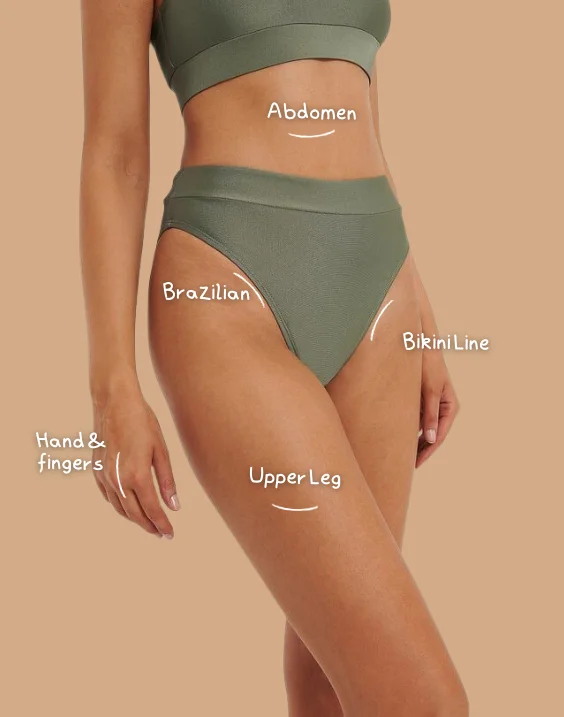 Laser Hair Removal Before and After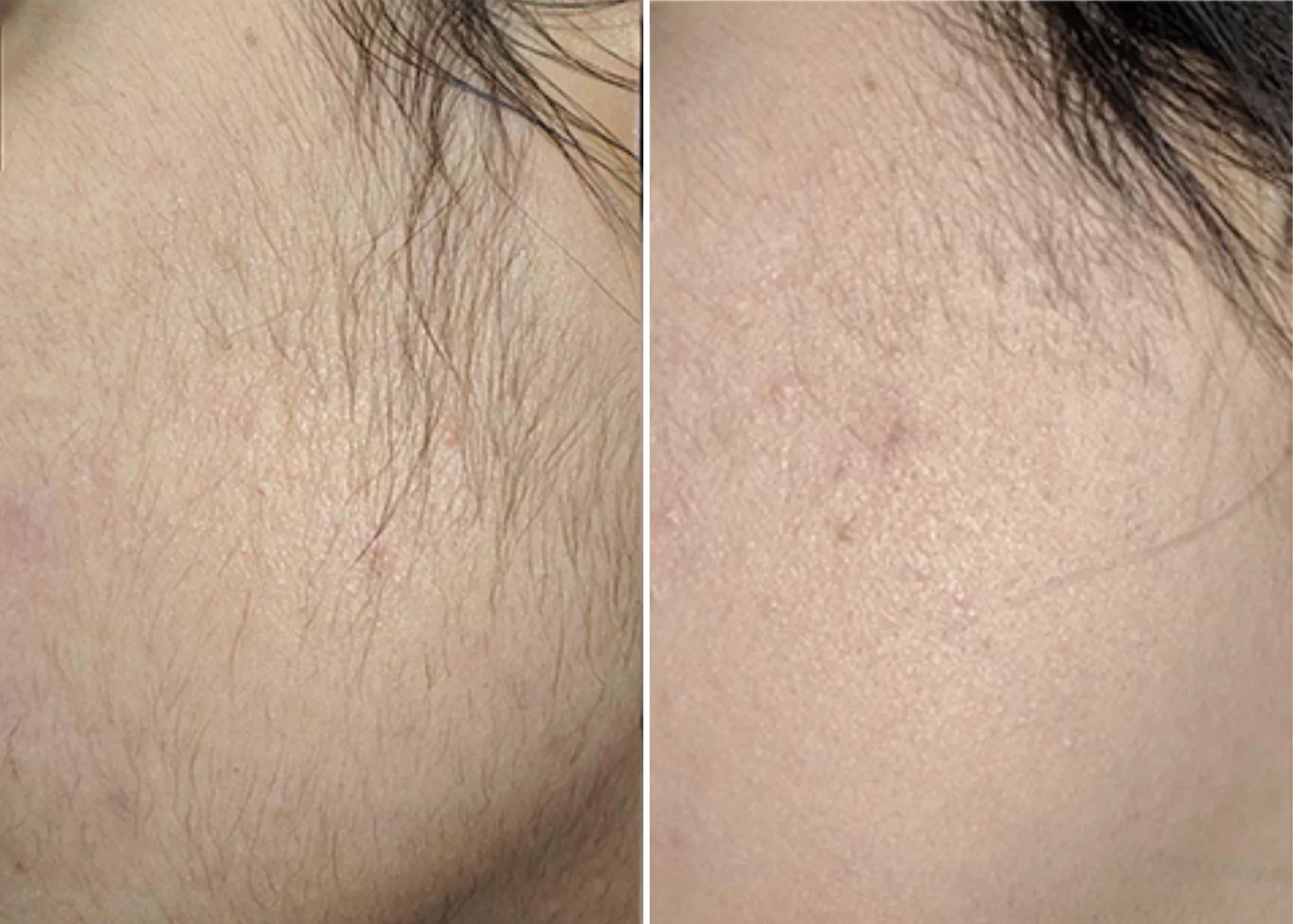 What Our Members Are Saying
Amazing service — my injector was very attentive and knowledgeable. Definitely went over and above to ensure that I was satisfied with results (follow up appointment). I will definitely be making this my regular clinic for Botox and filler treatments.
I have been twice for botox and will keep coming back. The staff is friendly and the treatment is well priced. I have been happy with how the botox has worked. I recommend getting the membership if you want to do multiple treatments.
Lovely knowledgeable fair. The place is very clean. The services are lovely and I like that they give me back ground information about my treatments. The membership is worth every penny.
Cheeks Laser Hair Removal near me