Best Med Spa and Skin Care Clinic
Dermal Filler – Droopy Mouth Lines (MARIONETTE LINES)
What are Droopy mouth lines?
Droopy mouth lines, or "puppet lines", are vertical wrinkles that extend from the corners of the mouth to the chin. These lines can give the look of a downturned or sad mouth which may increase your self-consciousness as you go on in your day-to-day life. But, do not worry! Droopy Mouth Lines Dermal Fillers are now injectable treatments that restore volume, lift lines, and rejuvenate your overall facial expression.

How do Droopy mouth lines work?
Droopy Mouth Lines Dermal Fillers are typically made of hyaluronic acid- which is a natural substance found in the skin. When injected into lines and folds, these fillers provide an instant plump appearance; lifting and smoothing the area. But that is not all, they also stimulate collagen production, which boosts elasticity of the skin and contributes to long-term results that can improve your overall confidence as well!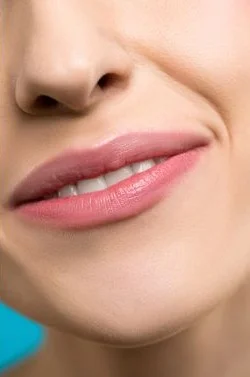 Are Droopy mouth lines Safe?
Yes, they are generally considered safe when administered by our qualified and experienced professionals who prioritize your safety and comfort above all else. However, as with any cosmetic procedure, some risks may exist, such as temporary swelling, bruising, redness, or tenderness. So, we do recommend that each client first schedules a consultation with our experts to make sure this procedure is the best action for their journey.
How Long do results from Droopy mouthlines last?
The duration of results will differ by each client, but Droopy Mouthlines Dermal Fillers can last anywhere from 9 months to a year or more. Though, with time, the filler is gradually absorbed by the body over time. This means that your personal journey may include maintenance treatments that are required to keep the wanted appearance.
Are the results of Droopy mouthlines reversible?
Yes, one of the many benefits of this treatment is that the results are reversible. If you are unhappy with the results or have any complications, an enzyme known as hyaluronidase can be injected to break down the filler and recover your original appearance.
Is the Procedure Painful?
Most clients report that the procedure feels fairly painless. Dermal Fillers for Droopy Mouthlines contain a numbing agent that will work to improve comfort during the procedure. However, you may feel mild discomfort, which has been reported to feel like a pinching sensation or strain, which is usually tolerable. But, of course, our experts will be there for any further assistance.
Find out more about what to expect before and after the treatment?
Looking for something else?
Let Our Medical Experts Help You.
Frequently Asked Questions
What are common side-effects?

While Dermal Fillers for Droopy Mouthlines are safe, they do have some common side effects. Temporary swelling, bruising, irritation, or tenderness at the injection sites may occur. These side effects, however, are normally mild and short-lived, usually disappearing within a few days to a week.
Am I a Suitable Candidate?

If you are bothered by droopy mouthlines or want to improve the appearance of your smile, you may be a good candidate! It is, of course, advisable that you have reasonable expectations, and are in search for a non-surgical solution to these lines. But, a final consultation with our experts is recommended to make sure this is the best path for your aesthetic journey.
What is Recovery like for Cheekbones dermal fillers?

Most people are able to resume their normal activities immediately following the procedure. However, you may notice mild swelling or bruising but- these will recover swiftly if their care is carried out in detail.
Are there any Restrictions after getting Cheekbones dermal filler?

Yes! To ensure proper filler placement after Droopy Mouthlines Dermal Fillers, avoid pressing on or rubbing the treated area for a few days. Also, we do recommend avoiding consuming alcoholic beverages, engaging in strenuous exercise, or exposing the treated area to extreme heat for a few days after your session.
What is the Preparation for the Procedure like?

On our clients' part, it is critical to arrive at the procedure with a clean, makeup-free face. Numbing cream may be applied to increase comfort, and the treatment area will be disinfected and clean prior to the injections.
Explore Dermal Filler Treatment Areas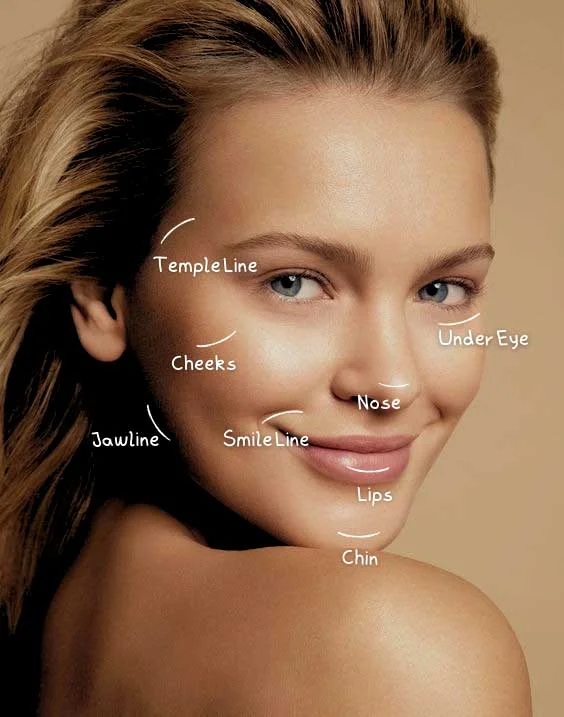 What Our Members Are Saying
Amazing service — my injector was very attentive and knowledgeable. Definitely went over and above to ensure that I was satisfied with results (follow up appointment). I will definitely be making this my regular clinic for Botox and filler treatments.
I have been twice for botox and will keep coming back. The staff is friendly and the treatment is well priced. I have been happy with how the botox has worked. I recommend getting the membership if you want to do multiple treatments.
Lovely knowledgeable fair. The place is very clean. The services are lovely and I like that they give me back ground information about my treatments. The membership is worth every penny.
Dermal Filler – Droopy Mouth Lines (MARIONETTE LINES) near me