Best Med Spa and Skin Care Clinic
Dermal Filler – Chin Augmentation
What is Chin augmentation?
Chin augmentation is an aesthetic procedure used to improve the look and proportion of the chin. It is a cutting-edge treatment that can add volume, improve profile, and create an overall harmony with the rest of the face. So, whether you want to strengthen a weak chin, correct imbalance, or achieve a more youthful appearance, chin augmentation can be the most suitable option for you to achieve your look of radiance!

How does Chin augmentation work?
The simplicity of chin augmentation is what makes it so effective. To add volume and definition to the chin, our devoted experts will insert an implant, typically made of biocompatible materials like silicone, or use injectable fillers, such as collagen or fat, during the procedure. This improves the contours of the chin, resulting in a more proportional and visually appealing facial profile.
Is Chin augmentation Safe?
When performed by our qualified and experienced professionals, your safety and comfort will be of the utmost priority during the chin augmentation session. Also, the implants used in the process are biocompatible and well-tolerated by most bodies which has meant that complications are uncommon. But as with any non-surgical procedure, it's critical to consult with our experts beforehand to ensure this is the safest option for you.
How Long does Chin augmentation last?
The duration of chin augmentation results differs depending on the procedure used. Our non-surgical- injectable fillers- however, provide temporary results that typically last 6 to 18 months. This also means that maintenance treatments are advisable to keep the desired appearance.
Are the results of Chin augmentation reversible?
Yes, because of the method used, to some extent, chin augmentation with injectable fillers is reversible. This means that, if you are unhappy with the results or have any problems, our practitioners can inject an enzyme to dissolve the filler and restore your chin to its pre-treatment state.
Is the Procedure Painful?
Most clients find the chin augmentation procedure to be relatively painless. As this is a nonsurgical option- there may, of course, be some minor discomfort. However, this can be reduced by using numbing agents or local anesthesia.
Find out more about what to expect before and after the treatment?
Looking for something else?
Let Our Medical Experts Help You.
Frequently Asked Questions
What are common side-effects?

Short-term swelling, bruising, and mild discomfort at the implant or injection site are common side effects of chin augmentation. These side effects usually go away after a few days.
Am I a Suitable Candidate?

Chin augmentation is appropriate for people who want to enhance the balance and definition of their chin. A discussion with a practitioner can help decide if you are a suitable candidate if you have a weak chin, or asymmetry, or simply wish to improve your facial harmony.
What is Recovery like for Chin augmentation?

In most cases, recovery is straightforward. You may experience some swelling and bruising following the procedure, which can be treated with ice packs and over-the-counter pain medication. Most people are able to resume routine tasks within a week.
How much does Chin augmentation Cost in Canada?

The cost of chin augmentation varies depending on factors such as the type of procedure, the branch's location, and the practitioner's level of expertise. However, injectable fillers, on the other hand, can cost anywhere from $800 to $2,000 per session.
Are there any Restrictions after getting Chin augmentation?

Your doctor may advise you to avoid vigorous activity and hot weather, and specific medicines for a few days after your session to reduce any risks of bruising or swelling.
What is the Preparation for the Procedure like?

A consultation with your chosen professional to discuss your goals, expectations, and any concerns is part of the preparation process. From there, your practitioner will then devise a personalized treatment plan to achieve the chin contour you desire.
Explore Dermal Filler Treatment Areas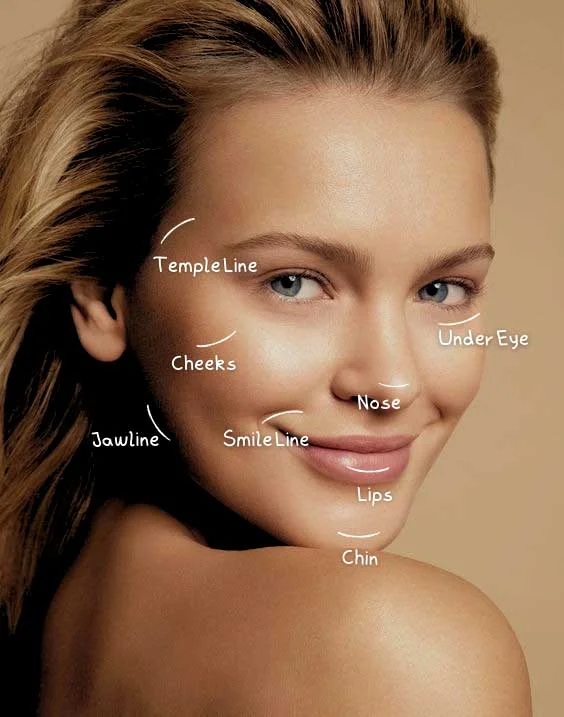 What Our Members Are Saying
Amazing service — my injector was very attentive and knowledgeable. Definitely went over and above to ensure that I was satisfied with results (follow up appointment). I will definitely be making this my regular clinic for Botox and filler treatments.
I have been twice for botox and will keep coming back. The staff is friendly and the treatment is well priced. I have been happy with how the botox has worked. I recommend getting the membership if you want to do multiple treatments.
Lovely knowledgeable fair. The place is very clean. The services are lovely and I like that they give me back ground information about my treatments. The membership is worth every penny.
Dermal Filler – Chin Augmentation near me