Medical Facials for Your Best Skin
NCTF Skin Booster Vancouver
What is NCTF Skin Booster?
NCTF Skin Booster is a cutting-edge cosmetic treatment offered at 3D Lifestyle Medspa that harnesses the power of NCTF (New Cellular Treatment Factor) technology. This revolutionary skin rejuvenation procedure involves injecting a specially formulated solution into the skin, containing a blend of vitamins, amino acids, minerals, and hyaluronic acid. It works to hydrate, revitalize, and stimulate collagen production, ultimately leading to improved skin texture, reduced fine lines, and a radiant complexion.
Is NCTF Skin Booster Safe?
Yes, NCTF Skin Booster is a safe and FDA-approved treatment. At 3D Lifestyle Medspa, we use only the highest quality products and employ experienced medical professionals to perform the procedure, ensuring safety and excellent results. The treatment has a strong track record of safety and efficacy.
How Long Does the Treatment Take?
NCTF Skin Booster is a quick and convenient procedure, typically taking around 30 minutes to complete. This makes it an excellent choice for individuals with busy schedules who are looking for effective skin rejuvenation without extended downtime.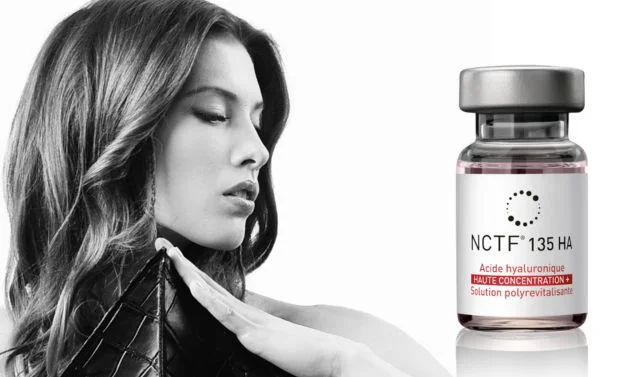 When Will I See the Results?
Many clients notice an immediate improvement in skin hydration and texture after their first NCTF Skin Booster session. However, optimal results are usually achieved after a series of treatments, spaced a few weeks apart. The gradual enhancement ensures that your skin's natural rejuvenation process is maximized.
One of the fantastic benefits of NCTF Skin Booster is that it has minimal downtime. You may experience mild redness or swelling at the injection sites, but this typically subsides within a day or two. Most clients can resume their daily activities immediately after the procedure, making it a convenient option for those with busy lifestyles.

Explore NCTF Skin Booster Treatment Areas
Find out more about what to expect before and after the treatment?
Let Our Medical Experts Help You.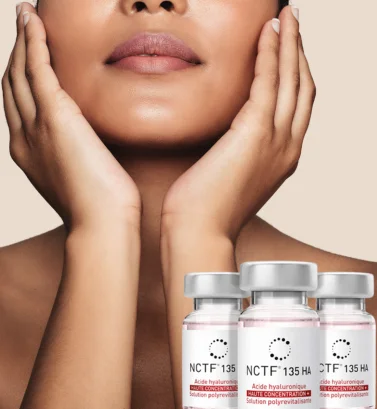 NCTF Skin Booster is a powerful blend of essential nutrients and hyaluronic acid that rejuvenates and revitalizes your skin from within. With this promotion, you can experience the magic of NCTF at an exclusive offer. It's a safe and effective way to achieve a radiant complexion, boost your skin's natural vibrancy, and restore your youthful glow.
Frequently Asked Questions
How long do the results of NCTF Skin Booster last?

Results can last several months, and maintenance sessions can prolong the effects.
Is the treatment painful?

Discomfort is minimal, and a topical numbing cream can be applied to enhance comfort.
Can NCTF Skin Booster be combined with other treatments?

Yes, it can be combined with other cosmetic treatments for enhanced results.
Who is a suitable candidate for NCTF Skin Booster?

NCTF Skin Booster is suitable for a wide range of skin types and ages.
Are there any side effects?

Side effects are rare, and any potential risks will be discussed during your consultation.
How many sessions are recommended?

A series of 3-4 sessions, spaced 2-4 weeks apart, is typically recommended for optimal results.
What Our Members Are Saying
Amazing service — my injector was very attentive and knowledgeable. Definitely went over and above to ensure that I was satisfied with results (follow up appointment). I will definitely be making this my regular clinic for Botox and filler treatments.
I have been twice for botox and will keep coming back. The staff is friendly and the treatment is well priced. I have been happy with how the botox has worked. I recommend getting the membership if you want to do multiple treatments.
Lovely knowledgeable fair. The place is very clean. The services are lovely and I like that they give me back ground information about my treatments. The membership is worth every penny.
NCTF Skin Booster Vancouver near me