Best Med Spa and Skin Care Clinic
Why choose full body laser hair removal?
Gain the freedom of hair-free skin with our premier laser hair removal full body services in Canada. Our cutting-edge laser technology delivers precise and effective results, banishing unwanted hair from head to toe. Experience the comfort of virtually painless treatments and bid farewell to the hassles of traditional hair removal methods. Our full body laser hair removal is a time-efficient solution, perfect for those with busy lives. With lasting results, you'll enjoy silky-smooth skin year-round, boosting your confidence and eliminating the need for constant shaving or waxing.

Is it suitable for all skin types?
The treatment is safe and effective for all skin types, including varying skin tones and hair colors. Our system adapts to your unique needs, ensuring safety and impressive results for everyone. Full body hair removal with laser provides optimal results while maintaining the highest safety standards. At 3D Lifestyle, you can trust us for safe, effective, and personalized full body laser hair removal.
How many sessions are typically needed?
While the exact number of sessions can vary from person to person, most clients notice significant hair reduction after just a few sessions. Typically, we recommend a series of 6-8 treatments, spaced approximately 4-6 weeks apart, to achieve long-lasting results. Multiple sessions are necessary because hair grows in different stages, and laser treatment is most effective during the growth phase. During a personalized consultation, our skilled technicians will assess your unique requirements and recommend the right full body laser hair removal package.
Is there any downtime or aftercare required?
One of the remarkable benefits of our full body laser hair removal treatment is minimal to no downtime. You can return to your daily activities immediately after the session. However, we recommend avoiding sun exposure and using sunscreen on the treated areas to protect your skin. Any mild redness or sensitivity is typically temporary and can be managed with soothing skincare products. Our knowledgeable team will provide you with detailed aftercare instructions to ensure your comfort and the longevity of your results.
Find out more about what to expect before and after the treatment?
Find out more about what to expect before and after the treatment?
Looking for something else?
Let Our Medical Experts Help You.
Frequently Asked Questions
Does full body laser hair removal hurt?

No, the procedure is generally painless, with most clients describing it as a mild sensation similar to a gentle pinch.
Can I undergo full body laser hair removal if I have tattoos on my body?

Yes, our advanced laser technology can safely target hair without affecting your tattoos.
How long do the results of full body laser hair removal last?

Results are long-lasting, with many clients enjoying hair-free bodies for years. However, occasional maintenance sessions may be needed
Is this treatment suitable for both men and women?

Absolutely, full body laser hair removal is effective and popular among both men and women seeking a smooth, hair-free body.
Can I shave between laser sessions?

Yes, you can shave as needed between sessions, but avoid plucking or waxing to ensure the effectiveness of the treatment.
Are the results permanent?

While results are long-lasting, they may not be entirely permanent, as factors like hormonal changes can lead to minimal regrowth.
Explore Laser Hair Removal Treatment Areas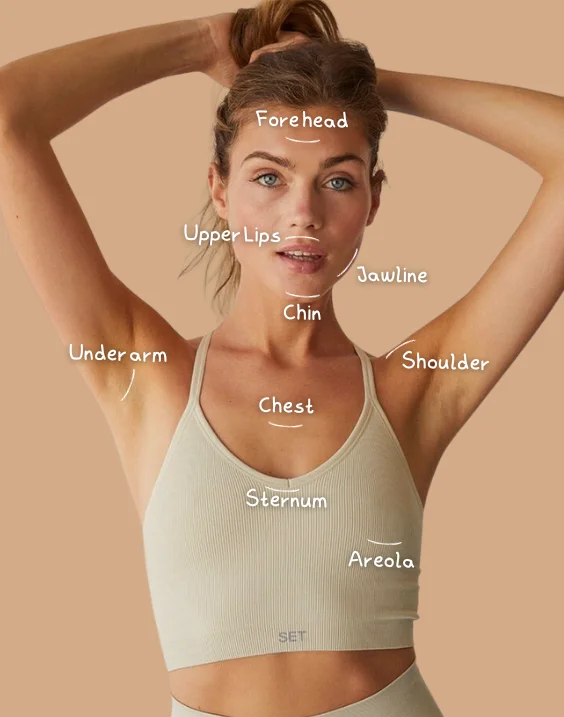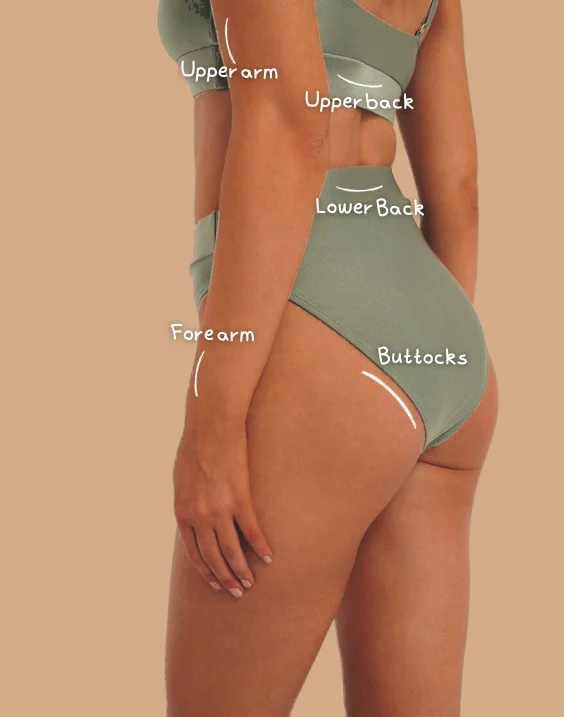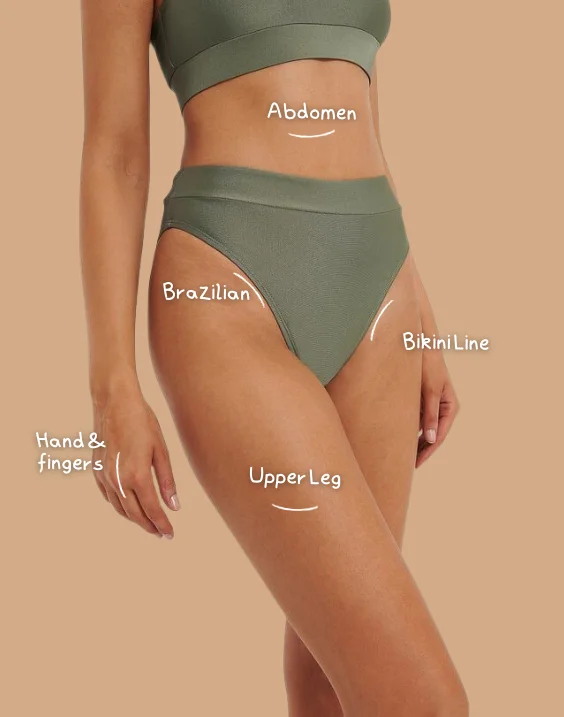 What Our Members Are Saying
Amazing service — my injector was very attentive and knowledgeable. Definitely went over and above to ensure that I was satisfied with results (follow up appointment). I will definitely be making this my regular clinic for Botox and filler treatments.
I have been twice for botox and will keep coming back. The staff is friendly and the treatment is well priced. I have been happy with how the botox has worked. I recommend getting the membership if you want to do multiple treatments.
Lovely knowledgeable fair. The place is very clean. The services are lovely and I like that they give me back ground information about my treatments. The membership is worth every penny.
Full Body laser Hair Removal near me